February 2011
I picked up a 1998 Honda Prelude with a motor that was on its way out. I drove it around for some time and it seemed to drive fine so was in no rush to swap out the motor.
August 2011
My girlfriend was in need of a new car and we were out looking at Honda's and came across a black 99 with a GReddy turbo kit installed in her. Spoke with the seller but didn't plan on buying the car as it needed some work to make it road worthy.
we checked out some other cars and the more I looked at other Honda's the more I was interested in this black 5th gen.
I ended up txting the seller of the black 5th gen and asked him if he would be interested in a trade (my 5th gen for his 5th gen)....after a little talking we decided on a trade and I drove away in my 99 BB6.
I took this car to Mission one night and did 3 runs with the car. As expected it did nothing special due to huge wheels/no tune/bald tires and me being new to this car. Parked the car for a while to work on getting things together for the build I had in mind for her.
September 2011
I decided I would treat myself to a birthday gift of a 5 day permit on the car so I could drive her. On the 3rd day I was a little to brisk on the throttle and pushed her to hard and she let go.....cylinder #3's con rod decided to snap of just shy of the piston skirt and poke a hole in the back of the block....this was a poor way to go but put a rush on the build.
Fast forward to today. I have a new sleeved block in the works, fresh head, valves, cams, pistons, rods, and a bunch of machine work being done.
Here are some pictures of the current state of this project.
Day#1 When I brought her home. Very dirty, bad smoke smell in the ineterior, bad alternator, axle shafts were done, tires toast, needed oil change ect ect ect....but I washed her and waxed her up all nice.
Current state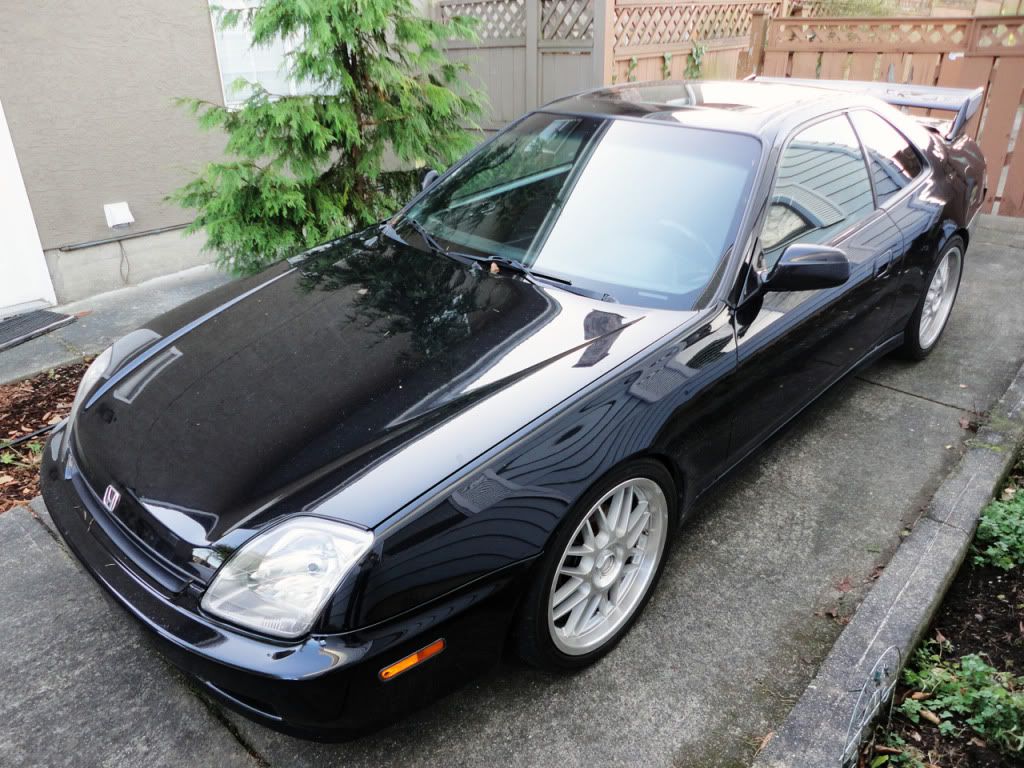 shes a little dirty from all the junk from the trees here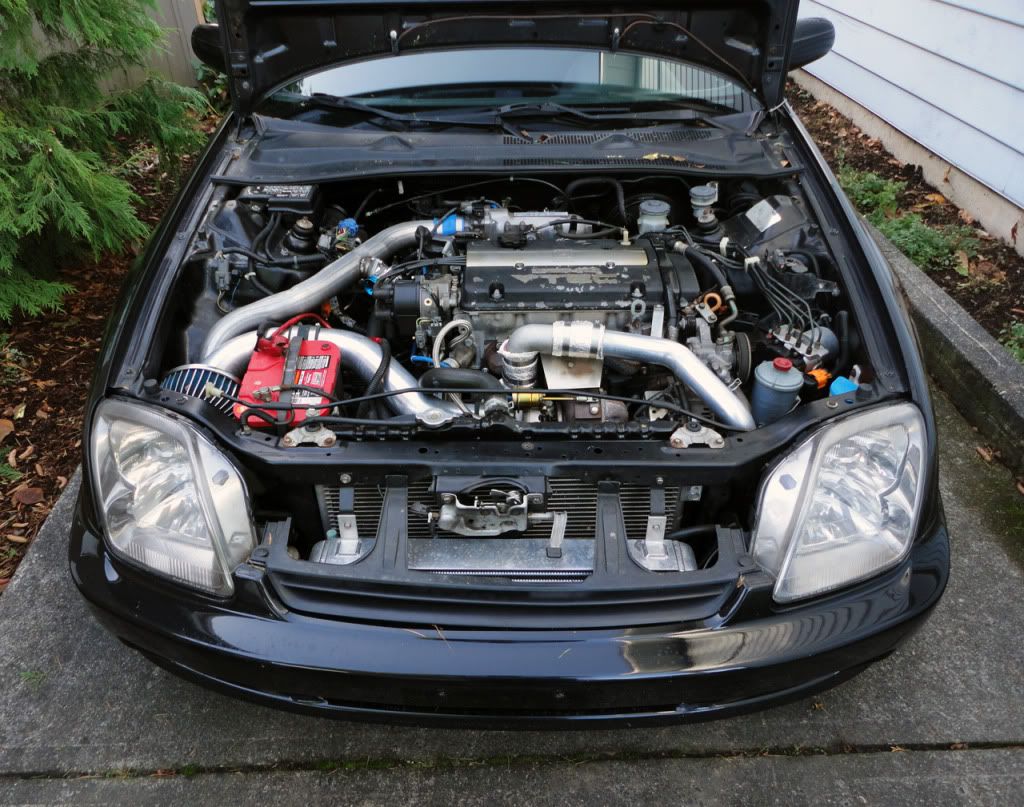 engine bay shot
Snail shot!
Yes.....I know....It would be removed if it wasn't for the HUGE hols under this 747 wing that is bolted to the trunk lid...Need to find a new lid to put on here...thinking CF
Another of the engine bay.
The Engine
JDM H22A block
Darton ductile iron liner sleeves
Balanced crankshaft
SCAT H-beam rods
JE 9:1 Pistons 87.5mm bore
ACL bearings STD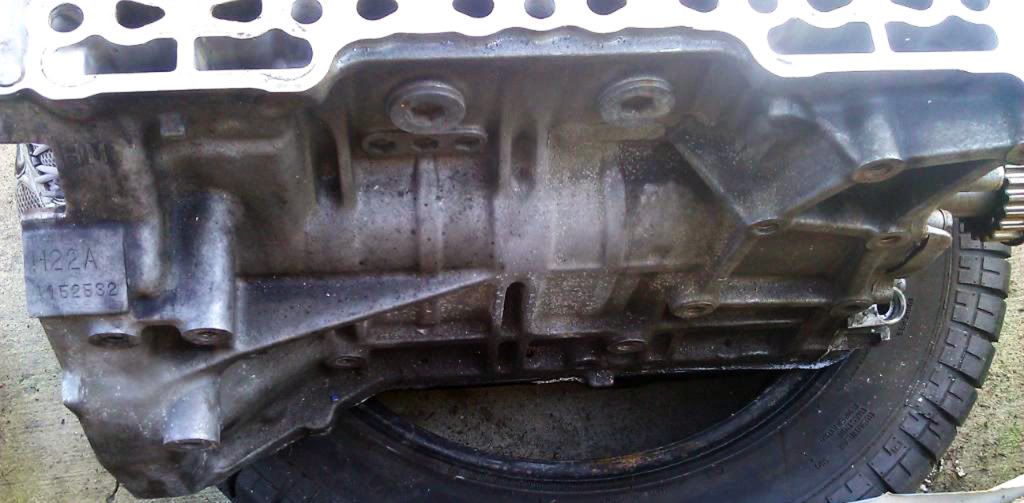 The Head
JDM H22A head
O-ringed for high boost applications
She still needs some bits before shes ready to go but thats on the move!
The list of things to do seems endless but right now I plan on putting the block and head together with my power goal in mind (550whp). The current turbo setup can not flow anywhere near this kind of power but it will stay for the time being.
To Do
Vent valve cover with Jegs breather tank
Re-finish valve cover in crinkle red paint
AN fittings and braided lines between head and breather tank
Remove AC pump
Remove PS pump and loop the rack
Remove ABS pump and re-route lines
Switch to smaller washer bottle
Re-paint engine bay after seam welding/spot welding
Prep engine bay for 3inch charge piping
and a whole lot more
Will post pics up once the engine is being put together...550whp in 2012 is the goal...hoping to do this on boost alone but will hit the gas if need be!
A little update.
All Skunk 2 parts are ordered.
Pro-Series 1+ Cams
Pro-Series 74mm Black Throttle Body
Cam Seals
Titanium Valve Retainers
Billet VTEC Solenoid
Pro-Series Cam Gears
Spring Base Kit
Valve Springs
Pro-Series Intake Manifold
Billet Shift Knob
VTEC Solenoid Cover
Billes Oil Cap
Radiator Cap
Pro-Series Standard Compression Valves
Few other odds and ends to pick up then its time to assemble the motor. Should be a fun build this one.
Update with some parts porn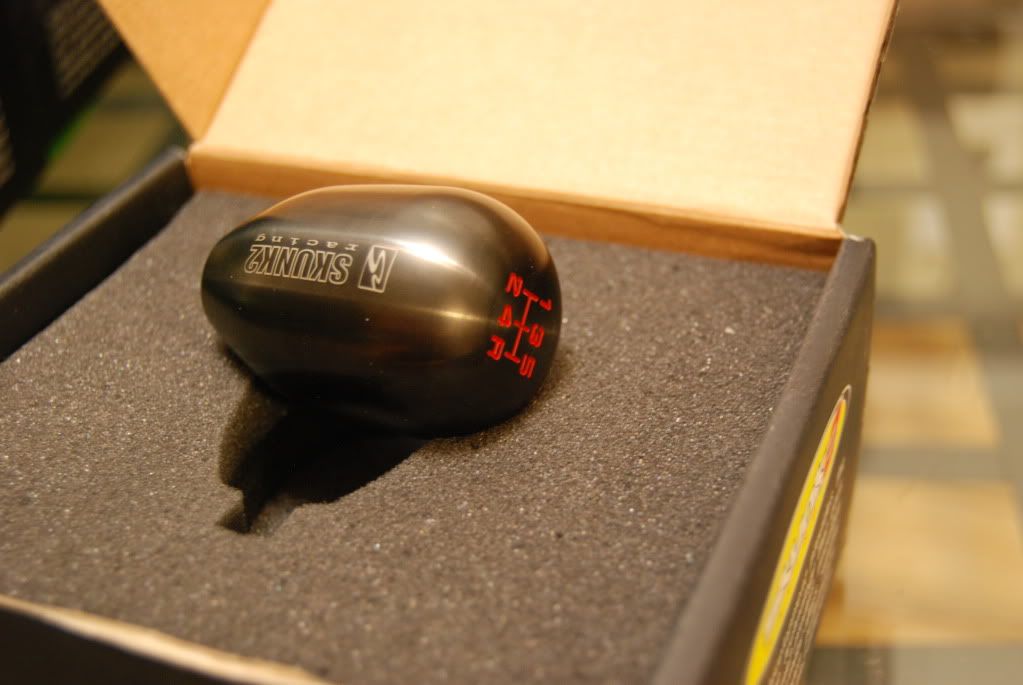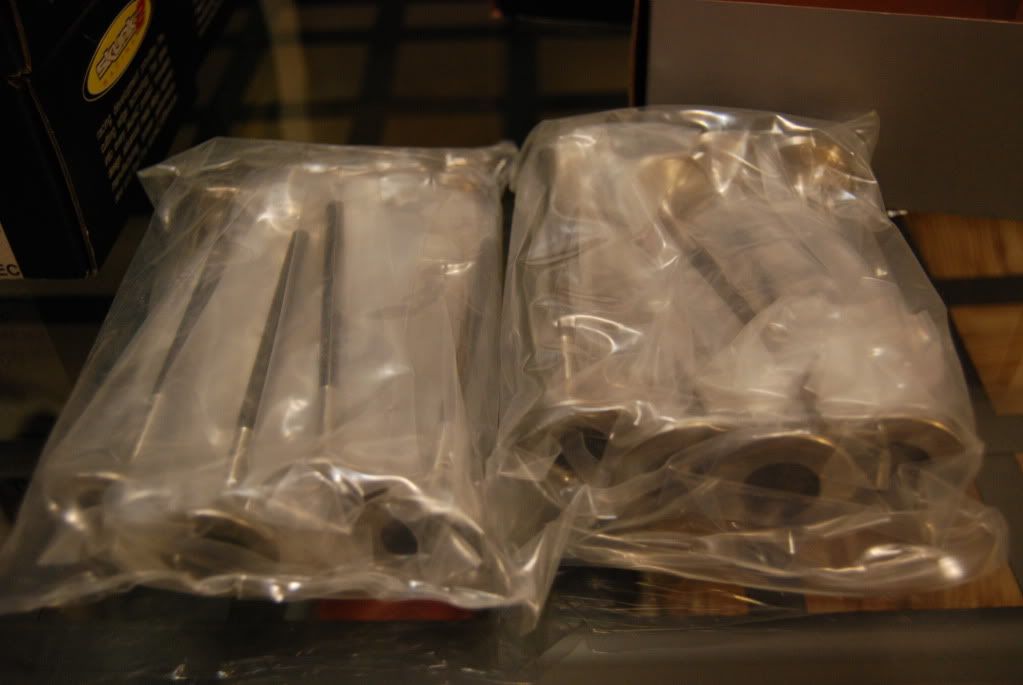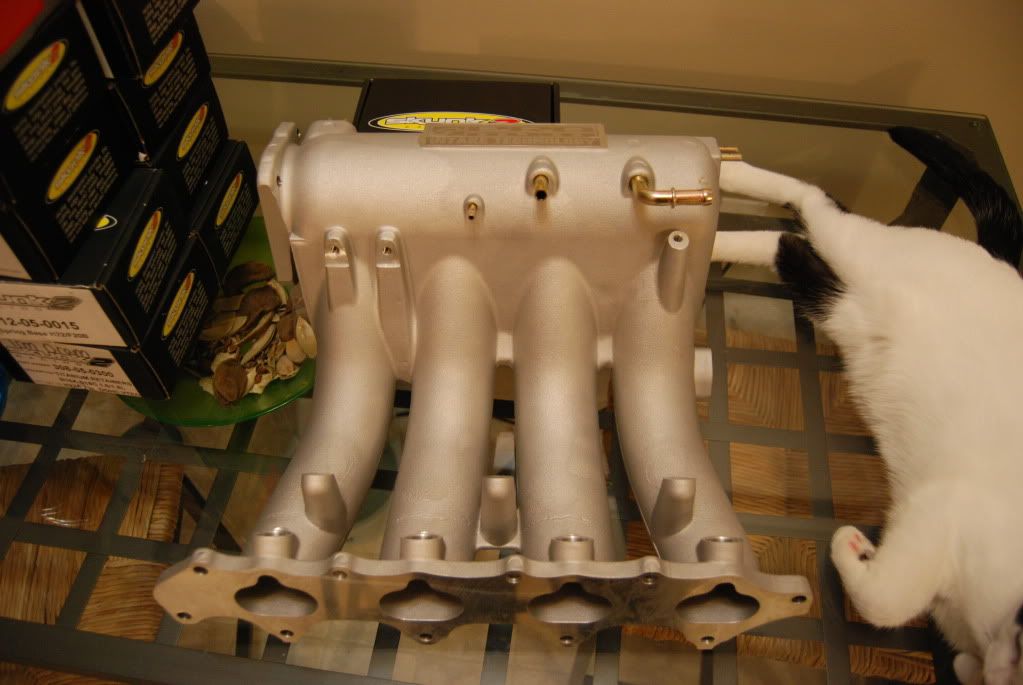 This should help put the head together and get it ready for some big boost
Bumper removed
Charge pipes removed
Headlight out and polished up
AC lines and hardware out
Radiator out
Intercooler out
In the process of pulling the head off in the next day or two. Assess the damage done to the block. Might be able to salvage the block and build up and even crazier setup.....2.4L low compression sleeved block for 2013.....800whp...hmmmmmmm
Going to be pulling the PS and AC out tomorrow as long as the weather hold.